PUBLISHED December 26, 2021

Pakistan's economic hub city, Karachi, has various ancient markets and retains its historical value. Karachi's famous and largest MA Jinnah M Road (formerly known as Bunder Road) has some past glory. In search of books, there was a time when an entire city chose to go to a popular market known as the Urdu Bazaar. In terms of books, this market is one of the oldest markets in Karachi and as the practice of reading books faces challenges across the world in today's digital age, Urdu Bazaar is still a thriving hub for readers.
Schools, colleges, Islamic, historical, architectural, geology, mathematical, social, engineering, science and commerce including medical books, fiction and summary novels in Urdu and all kinds of local, national and international books are available in this bazaar.
The students come to buy workbooks and solved papers of each subject which are useful for the exams.
The bazaar in Urdu has nearly 300 to 400 stores including dozens of stalls. Including these stores, there is a book printing house and a collection of books, notebooks and stationery. In the center of Old Karachi, old residential buildings are also being converted into shops and storage facilities.
There are few book stores open in different parts of Karachi city, but there is no other big and old bazaar of new and old books like Urdu Bazaar. Urdu Bazaar printing press and different types of bookstores play a huge role in all types of book fairs. They exhibit their famous books and publish new books and attract readers for book reading.
Printing and selling laptops has a huge profit potential. There are dozens of stores that sell and supply stocks of notebooks, diaries, journals, school / college registers, and coloring books. Pens, pencils, files in various colors, papers and all kinds of items are also available at wholesale rates in this market.
Abdullah is the oldest trader in the Urdu bazaar. He has spent his entire life selling books. He has been running the Islamic books and stationery business for 58 years. His sons and grandsons also do the same work alongside him.
According to Abdullah, the tendency to read Islamic books is still present. Highlighting the story of Urdu Bazaar, he said that there were a few shops opened on Maulvi Abdul Haq Road near Federal University of Urdu (old name Urdu College) then they were removed from there and moved to KMC Ground and from there the local govt kmc moved them to Lawrence Road. After that time, on this bunder road, a few stores were built in the middle of residential buildings.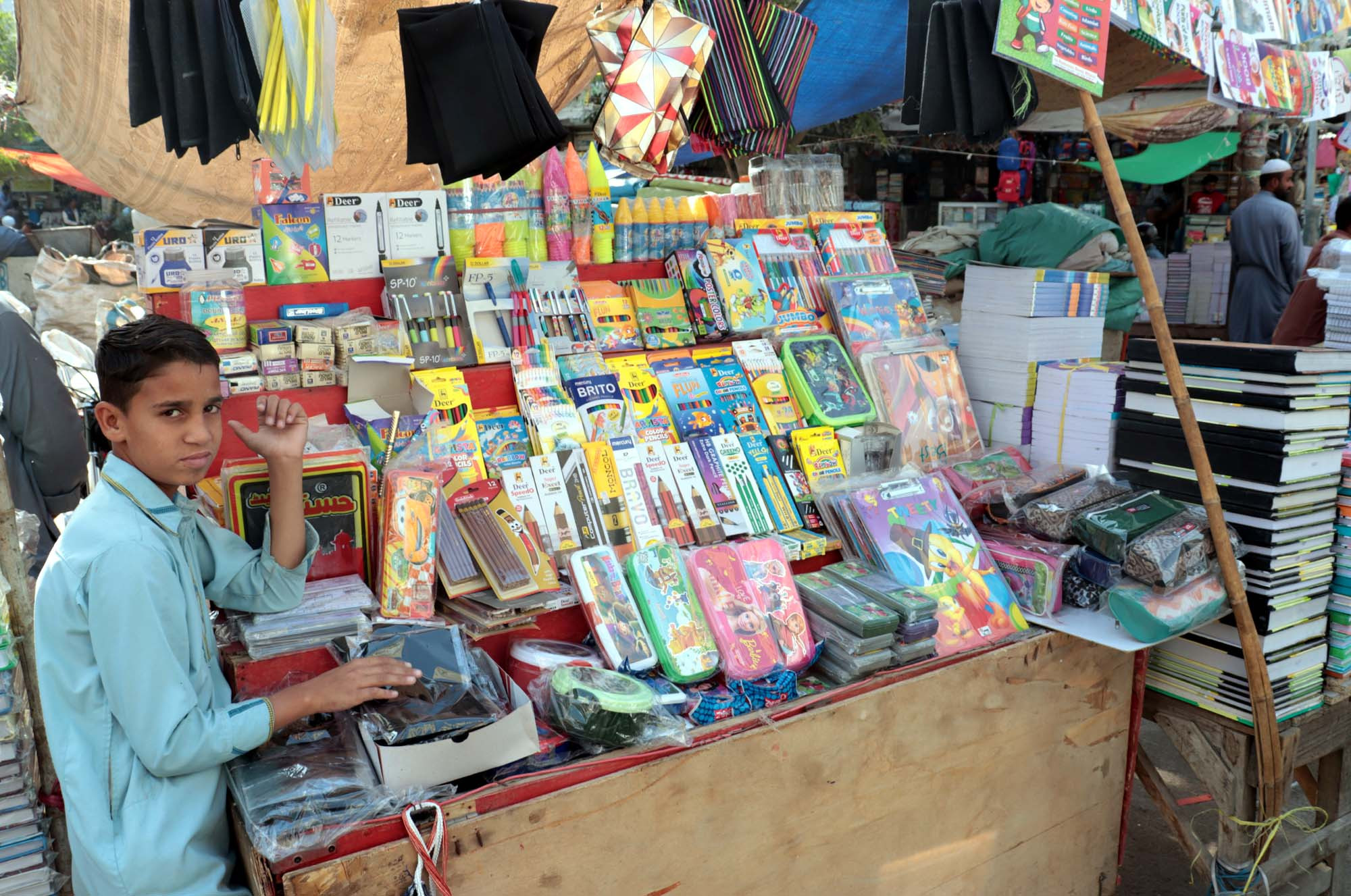 In this Urdu bazaar, people have chosen to open bookstores. Abdullah bought this shop for only Rs 735 from KMC and started his business. He said that the population of Karachi has increased and the need for books is also increasing over time. "People want to read so they come here to buy. This market has its own ancient status like other old bazaars in this metropolitan city of Karachi, "he said.
Nasir, a wholesaler who sells a stock of children's books to the bazaar in Urdu, says, "We are the third generation doing business here. My grandfather used to sell books here, then my father continued his work and now I run his business. "
"In the past, we were used to selling general and Islamic books. People don't have time to read, and high prices and inflation have also taken away the love of reading books, so we have finished this work and now for five years we have been selling school books for kids and other activity books, "he said.
Speaking on the archaeological and historical significance of the Urdu Bazaar, he said that there is no substitute for this Urdu Bazaar in Karachi when it comes to selling books, but over time this market has been neglected. "Other markets and shops are increasing day by day, but this Urdu bazaar is the only market not only in Karachi but in all of Sindh," he said.
Mohammad Nadeem has been selling old and used books in Karachi's Urdu Bazaar for 35 years. He was selling old books on a temporary stand, but later these stands were turned into stores by KMC. New stores were added and the market grew. "Here we buy school and university textbooks at a 25% markup and sell them forward, especially to poor students who don't have the purchasing power to buy new books. They prefer to buy these old books to continue their studies, "he said. "This market has been shining like this for several decades. People from Karachi, Hyderabad and other cities in Sindh come here to buy their favorite books, notebooks and other stationery, "he said.
Mohammad Sohail has been running his shop with his father for 30 years. His father bought this shop and with the name Pakistan Bookshop in the Urdu Bazaar of Karachi. "People come to the Urdu Bazaar in search of old books. This business is still thriving in the Urdu bazaar, "he said. Sohail still remembers the former bookstore owners and workers of the past in this market. "While business is on the rise, the roads and traffic system in this bazaar are still dense, we are also facing traffic jams. Despite the addition of stores to Urdu Bazaar, there is no regular maintenance system. Urdu Bazaar does not have the level of road infrastructure and parking structure that it should have. There is no parking system and no space for pedestrians due to the large number of stalls and patharas. There are few large sewer lines and nallahs inside the whole market, but there is no sewerage system, "he said.
Mohammad Naseem has also been marketing stationery and children's books in Urdu Bazaar for the past three decades. According to him, in this wholesale store, distributors and small traders buy all kinds of stationery in stock in his shop. "When this Urdu Bazaar was established, there were very few bazaars in Karachi at that time. It was the only Urdu bazaar at that time now in its same glory. "As the city grew, the number of shops in the Urdu Bazaar increased. Now there are around 300 stores. Urdu Bazaar is the biggest market not only for books and copies, but also for stationery, "he said. "This old Karachi bazaar is also important in this regard." He recalled the old heyday of Karachi when there was a tram system and horse carts were used for travel. Naseem fondly recalled the days when all streets and roads were airy and not crowded with crowds as they are today.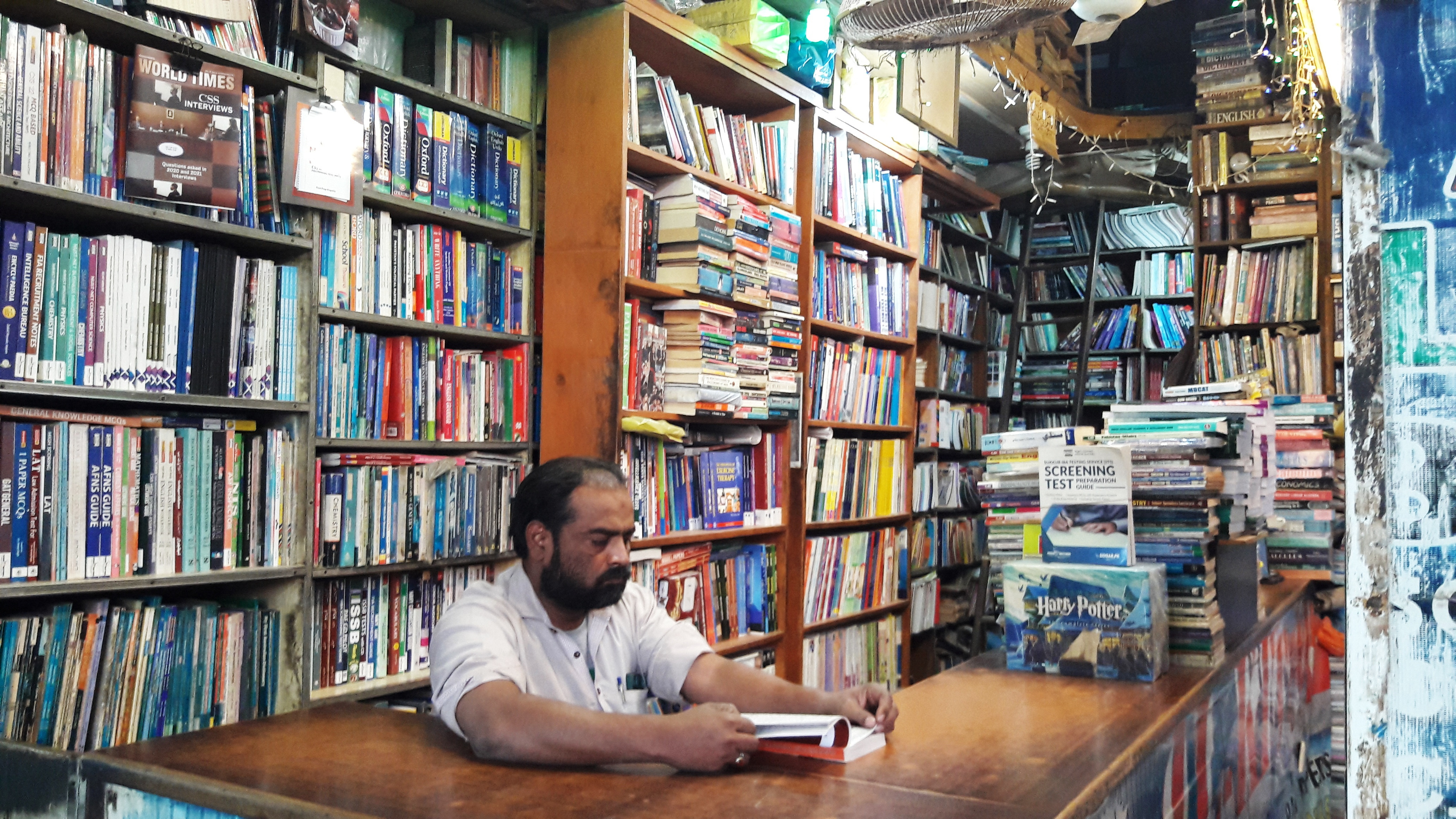 Usman Ghani Tahir, who has been selling books here for four decades, says his family has been involved in the book business since 1942 before the score, his family shop was at Saddar Market, and then they bought a separate shop. in this Urdu bazaar for 40 years. Speaking about the old bazaar in Urdu, he said that instead of emphasizing the importance of this market, a notice was issued to demolish this market in 2019. Authorities said the reason was that this market was located on a sewer line. More than two stores were destroyed and rebuilt due to the explosion of a gas leak here in the 90s. According to Usman, there is no doubt that this is the only market in Pakistan where you can find all kinds. of books from all over the world. Even if a book is not available, the merchant takes care of it.
Nazar Aftab, the owner of Maktab-e-Faridi, a popular Urdu store in the bazaar, says this bazaar has its unique value and the book business is always brilliant here as there are a lot of publishers linked to different cities. who are running their business in Karachi. Their publishing books sent from here by the printing house. Foreign books are sold from here all over Pakistan and publishers profit as a result. "As the number of writers increases over time, this Urdu bazaar is expanding," he said.
Jabbar sits on the road near the garbage dump and runs his old book stall where he repairs and binds used books and sells them cheaply. "When kmc conducts its encroachment operations here, we clear our stalls from here and leave work. After several days, we sit here again and continue our work because we have no other source of income without this stand, "he said. According to him, both his store and his stall win with their efforts and customers continue to come to these stalls for cheap prices in the age of inflation where everything comes at high prices.